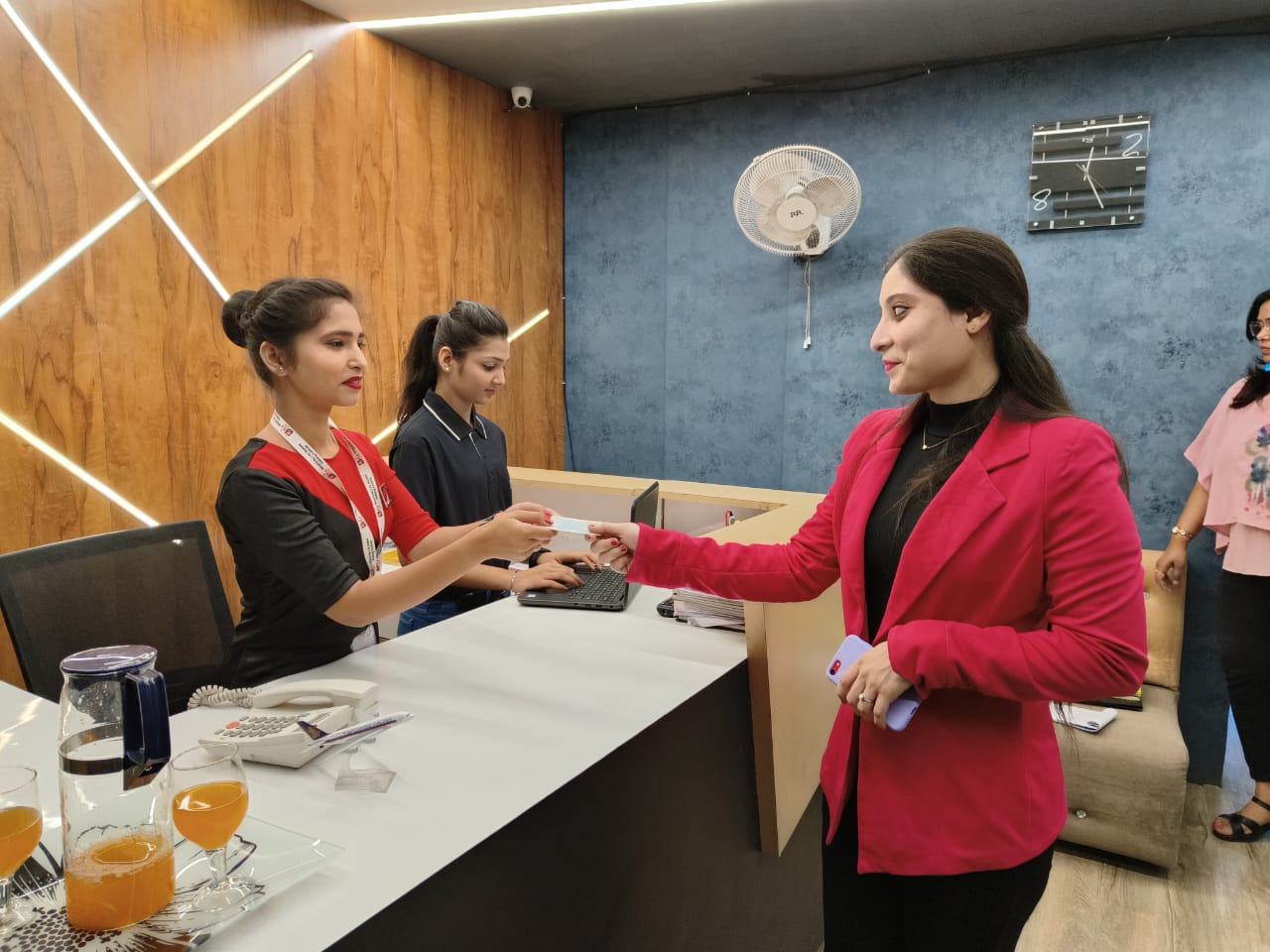 Dfly

About Customer Service Training In Dubai
This is a 6 month duration course of customer service training in Dubai which will be spent on a co-op placement in sector-related establishments such as hotels, restaurants, or other relevant hospitality and tourism places. This 6-month customer service course in Dubai will train you to become a leader in delivering unparalleled customer service and experiences. Learn about the different aspects of hospitality management such as front desk operations, food and beverage management, and customer service.
You will develop the skills and strategies required to interact with customers in a professional and appropriate manner in a diverse business environment. This Dfly International customer service Certificate program in Dubai prepares you to use various office equipment and technologies while gaining hands-on experience in customer engagement, scheduling appointments, document system maintenance and purchasing, and inventory management. Through a variety of projects, case studies, and interactive learning opportunities, you will develop the workplace interpersonal skills needed to support all phases of your career.
We are the Best institution committed to its mission and are resilient optimistic,  and eager to embrace whatever the future may bring. Dfly International customer service training in Dubai is evaluated and acknowledged as one of the Best leading Colleges and it offers students undergraduate and postgraduate courses. We offer Internationally-ranked and accredited programs.
Our training team has delivered training to all levels of the industry, from general companies through to full-service international as well as some of the world's leading customer service regulatory authorities. With a personalized team of strategists, career mentors, and employment consultants, Dfly International customer service training institute in Dubai provides you with the insight you need to stand out as a top customer service job applicant, so you find yourself in the best position to get that prestigious customer service job offer you worked so hard for!
Career In Customer Service Training In Dubai
Every organization today has a dedicated customer service wing. Customer Service course in Dubai is one of the few careers that is growing strong and holds a lot of promise. Customer Service Representative jobs are the third largest growing jobs in India. 
The job opportunities are diverse, ranging from Technical Support for Sales, After-sales, or product support. The job salaries and perks are constantly on the hike. Keeping the customer happy & satisfied is after all so important & vital for any business.
Certified Customer Services will teach you how to design and develop effective and efficient service processes for Customers. It will give you a better understanding of consumer behavior, important marketing elements that shape demand patterns, and the core components of service processes.
Simply, join our best air hostess training institute in Dubai to brighten your career faster as Dfly International is an internationally recognized institute for Customer Service courses in Dubai. We at Dfly International focus on serving rigorous learning through our customer service training institute in Dubai.
Top Reasons To Choose Dfly International Customer Service Training Institute In Dubai
DFLY INTERNATIONAL Customer Service Course In Dubai has an In-House Hi-Tech fully Equipped Campus for students
Dfly International Customer Service Course In Dubai has Special High Luminous Mirrors used by Professional Makeup Artists at all the Makeup Stations
DFLY INTERNATIONAL Customer Service Training Institute In Dubai has an In-House Yoga and meditation Facility FREE for all students.
DFLY INTERNATIONAL AVIATION INSTITUTE in Dubai has Hi-Tech Modern Classrooms and Industry Experts as Teachers
DFLY INTERNATIONAL Customer Service Training Institute In Dubai has many Latest Dell Computers FREE for Students Use
DFLY INTERNATIONAL AVIATION College In Dubai has the Highest placement track record
Dfly International Customer Service Training Center In Dubai provides In-Flight and airport Experience to Air Hostess Training students
DFLY INTERNATIONAL AVIATION INSTITUTE In Dubai provides FREE Swimming Lessons
DFLY INTERNATIONAL Customer Service Training In Dubai provides FREE Basic First Aid Training That's why we are the best air hostess college in Dubai.
At DFLY INTERNATIONAL AVIATION INSTITUTE you get FREE Career Counselling
Dfly International Customer Service Training In Dubai you get FREE makeover.
I am glad that is got chance to join Dfly International hospitality training institute in Indore because of them I have got my dream job with oberoi hotel.
Hi, Thank you to Dfly International hospitality college in indore and their faculty they have supported me throughout my journey. Before I can't speak a word in English but today am with Taj hotel as a junior manager. Best Institute.
I am very happy I got my placement with Courtyard Marriott as a guest relationship manager. Dfly International hospitality institute helped me interview, grooming and practical training. Director is very helpful and they support each student. Best institute and best environment to get training.
Thank you so much for giving me an opportunity  to attend the training: it was a fantastic training and not as a classroom speech. Really enjoyed and it was interactive too. Always inform me whenever you have such training
I must say Dfly international is one of the best hospitality training institute in indore as their faculties taught me many new things to face not only interviews but also to the customer's problems. Thank you Dfly International.
Thank you Dfly International  for making my career in hotel manager in top hotels in the India. I learnt each and everything in detail manner from faculties. I want to say that Dfly International is the best air hostess training institute in Indore.
I want to thank my dad who choose Dfly International aviation institute for my cabin crew training. Today I got placement with Air Aisa as a flight steward. Dfly International Institute best part is they give you practical exposure which help you In your job also. Thank you Dfly International aviation academy for fulfilling my dreams into reality.
I want to give big thanks to team of Dfly International aviation academy because of their support and guidance today I got placed in SpiceJet as a airhostess. I got placement before completion of my course. So thank you Dfly International.